Next tours:
All year round
Place
Gnesta

duration
4 days
PRIce
6000 sek/pers.

ACTIVITies
Hiking

Wilderness

Cooking on campfire

Wildlife and Flora

Landscape

Swimming in lake
INCLUded
Transportations

All meals

Your guide

NOt INCLUded
Camping equipment (on request)

Flight to Sweden

Your travel insurance

Alcoholic drinks


Be in the nature - Take time to feel the immensity: we make it possible!
The Swedish forests are so widely spread that you hardly encounter anyone. Resourceful, beautiful and peaceful forest soothes, refreshes and invigorates you in no time! Wilderness and lakes of pure water cover a great part of the country. Therefore, a unique wildlife experience is possible, giving you a greater chance to spot Nordic animals such as elks, owls, beavers, deers and many more. Hiking in Sweden allows you to experience the wilderness with clearer senses, noticing smells and specific sounds due to being away from any urban distractions.
We promise we'll make your hiking experience one of the most memorable one of your life!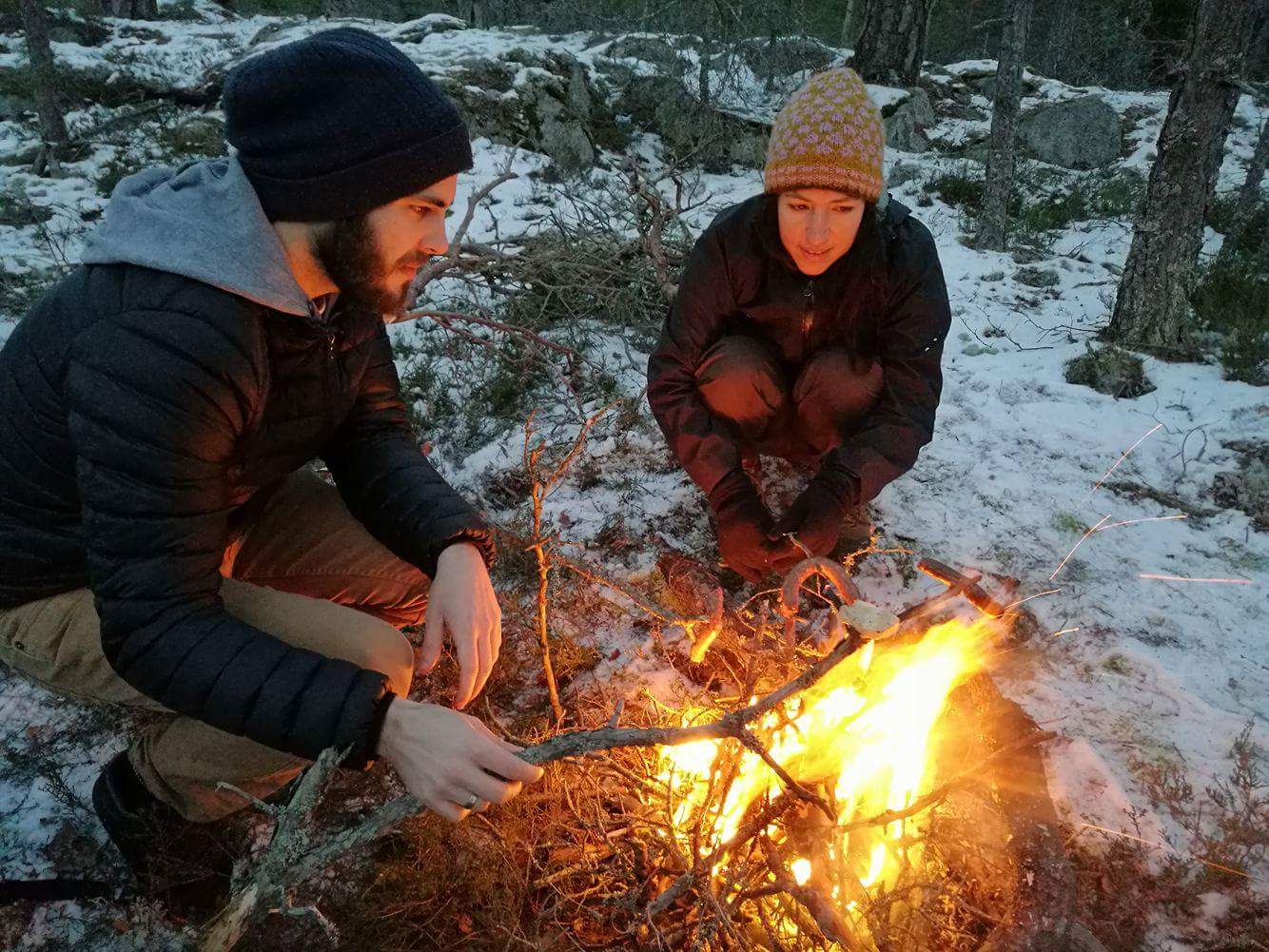 In this two-day program, we take you into the wild, across huge forests and around clean water lakes. We are self sufficient during the whole trip, which means camping in the wilderness and cooking our food on wood fire that we set together with you. We are going to progress as a team and everyone should participate to the good proceedings of the hike. Each of you need to carry your own pack of camping gear, food and personal property.
Day 1: We depart from our office which is located to the south of Stockholm at 9 am and drive an hour to a forest not far from a small town called Gnesta. When we arrive to the area we first check up on our backpack and then we start the hike by following a path for about an hour, the perfect amount of time to make sure that your gear is well adjusted. At that point we start the real adventure and walk off the beaten track: no path, no signs of human activity, nothing related to civilization, the perfect setting if you want to really feel the wilderness and get away. We usually have lunch around noon, in this magical environment. In the evening we set our camp next to a lake in which you're welcome to swim. We then build a fire and cook a delicious meal on it, prepared by your skilled guide (with your help).
Day 2: We usually wake up around 8 am, build a fire to prepare breakfast, pack the tents and take our time before getting started for a full day hike. Today is the opportunity to get quite deep in the forest. We might get lucky and spot some animals: a moose, maybe an owl. We stop on the shore of another lake in the evening to set up the camp. You might feel like having a dip in the water and to warm up around the fire we have set while you were swimming and enjoy a nice meal that we prepared altogether.
Day 3: Waking up at around 8 am. We start to feel the wilderness routine of making a fire to heat the water for the coffee which has become almost an habit. Warm drink is such a pleasure in the mornings with such a beautiful landscape. After packing up our tents and backpacks, we continue throughout the forest. Today, this strange feeling appears, the feeling of belonging to the nature and the tall trees surrounding us. Yes we begin to feel our feet and legs getting sore but this is the cost of this wonderful experience. We will use this day to walk along the Likstammen lake which offers us great and large view on the lake and on the islands. Nothing better after 2 days into this dense forest. A fantastic camping spot for the last night is awaiting for us, right on the sun set and next to the long Likstammen lake. Let's enjoy our last night in the wilderness of Scandinavia.
Day 4: From 7 am, it's the same morning routine, we set a camp fire to prepare the breakfast and then start to pack the tents, take one last picture if you want and we're on the move again. This is already the last day but it's not over yet. We hike through the nature, to another part of this huge forest and see other landscapes. Later in the morning, we reach the last lake of this trip and from there follow a path that will bring us back to the car but not before having a lunch break and set one more camp fire to eat while admiring the amazing view one last time. Then it's time to head back to civilization with full of amazing impressions and unforgettable memories.